Henri-Stanislas ROUART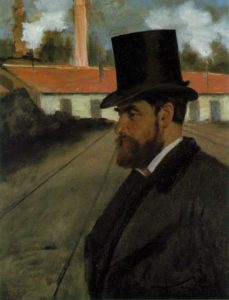 Henri Rouart is the son of Alexis-Stanislas Rouart, nephew and partner of Gervais Dillais (great-grandfather of Jacqueline Dillais). Henri was educated at Louis-Le-Grand, where he was a fellow student of Degas. He was then admitted at the Polytechnique School (1853), but he was less interested in arms than the arts, which drove him to attend the workshop of Corot. A painter of little talent, he was a much better engineer: he is the inventor of the tire (a system of compressed air tubes which allowed circulating at high speed, in Paris, letters and messages and cooling processes with which he equipped the morgue in Paris). A hollow iron specialist, he was manager of metallurgical plants, thus amassing a large fortune. He was soon rich enough to gather admirable collections of French and Spanish paintings (although most of his paintings were bought at a low price). Millet, Daumier, Delacroix, Corot and Courbet sit next to El Greco, Velasquez and Goya. Henri Rouart is best known for having been the patron of the Impressionists: a friend of Renoir and Degas (who made eight portraits of Rouart), he collected their canvases together with those of Manet, Cezanne or Gauguin. Rouart had the gift of discovering the genius of unknown artists, who would later become very famous. He had six children with Hélène Jacob-Desmalter (from a famous family of cabinet makers). He died in 1913, aged 79 years.
Testimonials :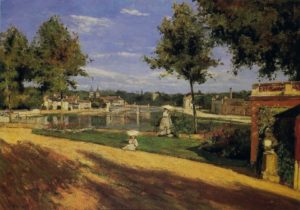 Paul Valéry (whose daughter married a Rouart) was a regular at the salon of Henri Rouart, about whom he wrote these lines, in "Degas, Dance, Drawing": "I met Degas at the house of Mr. Henri Rouart, having been introduced by one of his sons. This hotel in rue Lisbonne was, from the threshold to its largest room, filled only with exquisitely chosen paintings. The concierge himself, who had become passionate about art, had covered the walls of his lodge with occasionally good paintings that he used to buy at the auction hall, which he visited as assiduously as other servants did the racetrack. When he made a very inspired purchase, his master bought the painting from him and it was quickly moved from the lodge to the salons. I revered Monsieur Rouart for the fullness of a career which incorporated almost all the virtues of character and spirit. No ambition, no desire, no thirst seemed to torment him. He loved only those true values which he could appreciate in more than one field. THE same man who was one of the first enthusiasts of his time, who had a taste for and bought, before others did, the works of Millet, Corot, Daumier, Manet and Greco, owed his fortune to mechanical constructions, to inventions which he transposed from pure theory into technology and from technology to the stage of industrial application. This is no place to express the gratitude and affection I have for Monsieur Rouart. I will only say that he is among the men who have left an impression on my mind."
Notes :
Among the descendants of Henri Rouart, his goddaughter Jacqueline Dillais is related to Paul Valéry, Berthe Morisot, Julie Manet and academician Jean-Marie Rouart.
This polytechnician was also an amateur painter and a great collector. Many of the paintings that belonged to him are nowadays preserved in the greatest museums, including the Louvre and the Musée d'Orsay. As a tribute to this activity of his, Degas painted an intimate portrait, which shows Henri Rouart smoking a cigar in front of a wall covered with paintings.
It was between the summer of 1895 and 1896 that Degas developed a sudden infatuation with photography. Although it occurred late in his life and only for a limited period, he practised this activity with passion. Unlike his contemporaries, who usually worked using natural light, Degas dedicated himself solely to indoor scenes, behind drawn curtains. He was interested in the indirect lighting and the effects of chiaroscuro, and often expressed opinions in writing on this topic. Here, only Rouart's face and hands emerge from the shadows