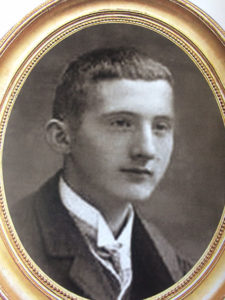 Marcel Louis Dillais was born in 1890 in Versailles where his father, Louis Pierre Dillais an artillery officer, was garrisoned. Born in a family that was related to the Rouart and Caillebotte families, which included patrons of numerous impressionist painters, he was attracted at a very early age by drawing and painting.
Against the advice of his father, he enrolled at the School of Fine Arts in Paris and crossed paths with some great masters of the time, among whom Jean Paul Laurens, Léon Bonnat and Edouard Degas, a friend of his grandmother Pauline Caillebotte.
Very early on, he got to spend holidays with his family in Biarritz where his parents owned a summer residence. There he came in contact with children, then with young people of his own age, especially Jean Rostand, a famous biologist, son of Edmond Rostand, author of Cyrano de Bergerac and owner of the Villa Arnaga in Cambo-les-Bains.
A hunting and sea fishing enthusiast, as well as a very fine horseman, Marcel Louis was enthralled with the open space that the Basque Country and the Landes had to offer at the time.
He moved to Cap-Breton, in the proximity of Hossegor, with Marie Louise Puel, who was his model at the School of Fine Arts.
After the war of 1914-1918, during which he served in the North of France as an interpreter seconded to the British army, he pursued a career as a draftsman and painter. His work includes numerous watercolors, oil paintings, mural paintings and caricatures, some of which are on display at the Exhibition of Humorists (Salon des Humoristes) in Paris.
This body of work, which depicts landscapes of the South West, members of his family, as well as many picturesque characters, reflects the period of years 1920 to 1970.
It is a mirror of other times, when the horizon was not crowded with tourist residences and political correctness did not expose caricaturists to lawsuits and vengeance. Those were happy times when life was surely simpler.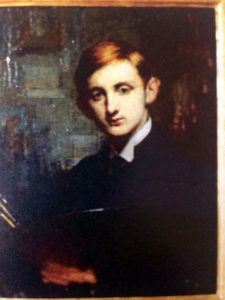 Self portrait by Marcel Louis Dillais